BelizeNews.com
All 17 major Belizean online news sources in one easy spot. Instant headlines, weather, Daily Video newscasts, live radio, message boards, photo of the day, and more! We enjoy bringing you the Belizean online news websites to one spot. Click on the news source you want to read from the buttons on the site.


BelizeScuba.com
Seahorse Dive Shop is a fully equipped dive shop located in the heart of Placencia Village, Belize CA. Book your scuba instruction and certification courses, diving choices, adventure tours, accommodations, and Belize City-to-Placencia airfare through SeaHorse Dive Shop and we will arrange a complete Belize vacation package for you.


BelizeanArtist.com
Where music is our passion Day and Night. Aziatic, Punta Rebels, Griga Boys, Nuru, Titiman Flores and more.


BigHJuices.com
Big H Enterprises is a group of companies owned and managed by the Harrison family in San Ignacio, Belize, Central America. The group owns and manages several concerns in manufacturing, distribution, retail, packaging, and services. Mamita milk, Juicy Jooce, Crossroads Supermarket, Vida purified water. Also the website for La Ruta Maya.


BlueDolphinBelize.com
Whether you want to dive Belize's 185 mile long Barrier Reef, find the road less traveled in virgin rainforests, explore spectacular sites of the ancient Mayan civilization, explore the largest cave system in the Americas, or just relax and do absolutely nothing from your beachfront hangout....The Blue Dolphin on Ambergris Caye can be your private jump station to the myriad wonders of Belize. The Blue Dolphin is a beautiful, private, oceanfront home on its own 150' white sand beach.


BlueReefResort.com
Blue Reef Island Resort is a tranquil, secluded, world class resort on the Caribbean Island of Ambergris Caye, Belize. The resort provides luxurious one and two bedroom suites with immediate proximity to once in a lifetime experiences for our guest and owners. To visiting guests, Blue Reef Island Resort provides a tropical island getaway with everything that could be hoped for in a dream Island vacation. For all who visit it is a beautifully situated sanctuary surrounded by the coconut palms and cooled by the breezes of the Caribbean Sea.


BTL.net
The services and products provided by BTL are vast and varied and distinguished by efficiency, quality and advanced technology. The company has expanded its mission to go beyond just providing telephone service to providing telecommunications solutions for its residential, business and government customers. BTL operates an extensive network of telecommunication services in land wireline, mo bile, data, Internet and value added features.


CahalPechVillageResort.com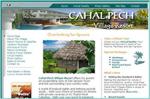 Cahal Pech Village Resort offers it's guests an invigorating view of San Ignacio Town and the surrounding Cayo country-side. We are ideally situated for excursions to Tikal and Caracol, Cave Canoeing-Tubing & Pottery Caves, Eco- Tours on foot, Horseback, River Canoeing and more... to assure you thoroughly enjoy your Vacation-Holiday in Belize ....


CasaEscalante.com
Casa Escalante is a locally owned and operated luxury resort. The owners, Wil & Rose Escalante, were born and raised in Belize. They have two executive suites available for select friends and family. Each suite has 1,000 square feet of living space with a master bedroom and bath, second bedroom, separate bathroom with Jacuzzi, full kitchen, washer, dryer, air conditioning, cable television, telephone, veranda, access to the rooftop sun deck, all mahogany furnishings, and ceramic tiles throughout.


CasaTurquesa.net
Casa Turquesa is located five miles north of San Pedro town on the most beautiful part of Ambergris Caye, Belize and is situated on nearly 3 private acres surrounded by coconut palms and tropical birds and flowering plants of every kind. The beautifully decorated home comes with a complete kitchen including a refrigerator with icemaker to cool your favorite tropical drinks. You can relax on one of two tiled verandas and enjoy the trade winds and the soothing sound of the waves crashing on the reef.


SaveTheManatee.com
Manatee Press, Travel guides to Central America and the Caribbean by Harry S. Pariser. Photos, tips, information. Barbados, Puerto Rico, the Virgin Islands. Complete with artwork and photography


Slickrock.com
Perched on the brink of the continental shelf, our island base of Long Caye lies on the slender coral ring of Glover's Reef, an atoll 35 miles offshore from Dangriga, in the middle of the Caribbean Sea. We've made sure our entire Water Sports Center blends into the undeveloped, natural atmosphere of this tropical island, unspoiled by the modern world. Shaded by a forest of palms and surrounded by endless coral reefs, Long Caye is truly a tropical paradise.


SocialSecurity.org.bz
Social Security Board for Belize. About the Social Security Board, History and administration. Downloadable forms, benefit information, employer information, and contacts.


SouthernBelize.com
Toledo, the southernmost district of Belize, is 1669 square miles of rainforest, mountains, rivers, and Maya Villages. Toledans often refer to their home as "the forgotten land"-it is the least visited destination in Belize. As the most sparsely populated and least developed region in the country, Toledo is certainly not for the ordinary tourist. However, for those with the spirit to venture off the beaten track, the natural and cultural diversity of Toledo makes a visit to Southern Belize an unique adventure.


ToSeeBelize.com
Reefs, Ruins and Rainforests, Inc. specializes in travel to Belize Central America, serving independent travelers and travel agents alike. It is owned and operated by Ellen L. Howells who lived in Belize for 8 years and who, with her family, built two successful resorts. Ellen has established a personal and/or professional relationship with most Belizean resort owners and tourism representatives.


TropicalBelize.com
Welcome to Tropical Belize Tours ("TBT"), which is owned and operated in Belize by the Mes brothers who are indiginous Mopan Maya from Red Bank Village. TBT offers diving, snorkeling, fishing, cave tubing, cave exploring, Maya culture tours and trips to 12 different maya sites including Tikal. TBT also offers customized group tours and all-inclusive travel packages to Belize.


TurneffeLodge.com
Turneffe Island Lodge has been a favorite resort for fly fishing, scuba diving and snorkeling for over 40 years. This 14-acre private Caribbean Island is located 30 miles off the coast of Belize on the Turneffe Atoll and is ideally situated near some of the best scuba diving and fishing in the Western Caribbean. Our exclusivity, our charm and our subtle hospitalities have created an environment that must be experienced to be truly appreciated.


WatershedBelize.org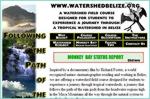 Inspired by a documentary film by Richard Foster, a world recognized nature cinematographer residing and working in Belize, we are offering a watershed field course designed for students to experience a journey through tropical watersheds; a journey that follows the path of the rain gods from the headwater regions high in the Maya Mountains all the way through the natural system to the Belize Barrier Reef.


WaveDancerMemorial.com
It was the biggest maritime disaster in Belize's recent history. It was the largest recorded recreational scuba diving death toll ever. And yet, too many questions remain unanswered. What is the true story of the M/V Wave Dancer tragedy? The purpose of this site is to provide the truth about the sinking of the Wave Dancer. It serves as an electronic archive for the facts surrounding this tragedy. Information and personal statements will continue to be added, as they become available.


XanaduResort-Belize.com
If you're looking for an Island getaway that will rejuvenate you mind, body and soul, then look no further. Xanadu Island Resort lies hidden on an inviting palm lined beach, overlooking the Caribbean and the Barrier Reef. Just a short walk to San Pedro Town, Xanadu Island Resort is close enough to enjoy the restaurants and other amenities of town, yet far enough from the hustle and bustle to be quiet and relaxed. Come... let us show you the true meaning of Xanadu!