BelizeCasaBlanca.com
Hidden away on a white sandy beach among tall palms and lush tropical vegetation, at your doorstep lies a breathtaking ocean vista - a living painting of sunny skies, a light ocean breeze, and clear turquoise water... It's not a dream, you've just discovered Casa Blanca, one of Ambergris Cayes' newest and exclusive beachfront resorts. Whatever your pleasures: complete relaxation, boating, snorkeling, fishing, or other, Casa Blanca's staff is here to assist you in making this your best vacation ever.


BelizeFirst.com
The #1 Magazine and Blog on Travel & Life on the Caribbean Coast. Lan Sluder is the author of the new Fodor's Belize 2007. Check all the latest travel information on Belize in this guidebook published by Random House. Learn which hotels and restaurants earned the coveted Fodor's Choice and star ratings. Get any question about Belize answered by an expert ... free.


BelizeisFun.com
The Exotic Caye Beach resort is full of perfect moments. The tranquility of a relaxing massage. Dancing the night away at Crazy Canuck's Beach Bar. Soaking up the sun. Lounging peacefully in an oceanfront hammock. Smelling the fresh air. Doing nothing. Our staff makes sure this is a vacation you will never forget! Alone or with a group, whatever you want to do, we make sure it's perfect. Reserve a room now and become part of the Exotic Caye family.


BelizeReport.com
The in-depth traveller's guide to Belize Lodging, restaurants, sights, adventure and travel tips; plus immigration, investment and retirement information.


BelizeSearch.com
The best place to search on Belizean subjects. Over 65,000 webpages indexed, a dozen categories, Adobe acrobat documents, excel spreadsheets, powerpoint presentations, all are indexed.


BelizeTourism.org
Welcome to the Belize Tourism industry website. Serving as the "on-line office" of the Belize Tourism Board, this website is dedicated to facilitating the involvement of tourism professionals in the Belize Tourism Industry.


BelizeTrips.com
Belize Travel and Tours with Lost World Adventures. If you are searching for any of the following topics: * Belize Travel * Scuba Diving * Belizean Mayan Ruins * BELIZE Look no further. You'll find it at Lost World Adventures! Belize Travel and custom tours. Lost World Adventures, specialty tour operator for Central and South America, has been offering travel to Belize for over a decade. From Ambergris Caye and the Barrier Reef, to the Belizean Maya heartland and interior rainforest lodges, we know the best of Belize.


Belize.USembassy.gov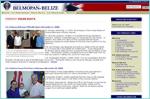 Embassy of the United States in Belmopan, Belize. Offering services for citizens, information for travelers, Visas to the U.S., U.S. Policy and Issues, and other resources. Electronic Visa Forms, Ambassador information, Key Officers, Latest Embassy News, About the Embassy, Other U.S. Agencies, Holidays, Job Opportunities


BelizeZoo.org
The Belize Zoo & Tropical Education Center. The Belize Zoo is settled upon 29 acres of tropical savanna and exhibits over 125 animals all native to Belize. Zoo SceneThe zoo keeps animals which were either orphaned, born at the zoo, rehabilitated animals, or sent to The Belize Zoo as gifts from other zoological institutions. The Belize Zoo believes that by bringing the people of Belize closer to the animals which are their natural heritage, they will feel proud of these special resources, and want to protect them for future generations.


thePhoenixBelize.com
Welcome to The Phoenix, an exclusive condominium resort being built on Ambergris Caye, Belize and in the town of San Pedro. Our condo resort is located beachfront on the island of Ambergris Caye, overlooking the beautiful turquoise waters of the Caribbean. The Phoenix offers 30 spacious, fully-furnished condos of high quality construction built in a contemporary architectural style. The condos at The Phoenix can be lived in year-round, used as a vacation home, or rented out as frequently as desired.


Placencia.com
The people of Placencia are from as diverse a background as the visitors who choose our home as a destination in their travels (travel tips). A wide selection of hotels, guesthouses, and restaurants are available from which to choose, most with access to our renowned beaches and crystal blue waters. Slip into a hammock, relax, and enjoy the view. . Placencia is a paradise for the nature lover in you, as its many knowledgable guides will show you. Start by exploring the beauty of the abundance of plants and flowers, and the birds, butterflies, and iguanas they attract throughout the penninsula.


SkydiveBelize.com
It's time to make plans for Boogie in Belize III! The Town of San Pedro, Belize San Pedro, Belize has welcomed us back for more fun in the sun! Come enjoy fun skydives and warm scuba dives. Enjoy Perris Valley Skydiving's Super Otter climbing to 13,000ft over the aqua blue water and stunning views of the barrier reef! Swim with sharks and rays. Get out of the cold and into the Caribbean! We will also be jumping over the Blue Hole again!


SanPedroInternet.com
Come in and enjoy San Pedro's fastest internet, international phone calls, relaxed atmosphere, air conditioned environment, sodas, espresso, and more! Conveniently located on Barrier Reef Drive (Front Street).


ScubaLessonsBelize.com
Looking for SCUBA diving instruction from a scuba Instructor to complete your certification while you are visiting Belize on vacation? An instructor who is a PADI IDC Staff Instructor, with a warm and friendly smile you can trust and feel safe with? Elbert Greer is a PADI IDC Staff Instructor, NASDS examiner, and SSI Referral Instructor Certification, Member R371 of the Universal Referral Program.


SeascapeBelize.com
The ultimate in barefoot luxury and elegance. Exclusive private beach homes on powder white sand beaches available for holiday or vacation rental. Stunning architectural homes with every amenity and amazing views of the world-famous Belize Barrier Reef. You provide the bare feet - we'll provide the rest.


StruktureArchitects.com
Our firm offers complete design and construction services for Commercial, Industrial, Public/Institutional, Hospitality and Residential structures. Julius and Ana Maria Espat are the founders and Architects of Strukture Architects Ltd. They lead a staff composed of enthusiastic professionals with broad-based knowledge, who are dedicated to client satisfaction and the design and construction of efficient project solutions.


TranquilityBayResort.com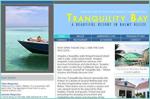 The resort is situated on twelve acres on the Caribbean Sea with one of finest beaches in all of Belize. The warm, gin clear sea in front of our beach is that beautiful aquamarine color that only seems to exist in the Caribbean. Tranquility Bay lies just inside the magnificent Belize Barrier Reef, the longest unbroken living reef on earth. Tranquility Bay Resort is the only resort on Ambergris Caye that is actually located inside the new Bacalar Chica National Marine Park and the United Nations World Heritage Site.


TropicalTouchSpaworks.com
Imagine the cool ocean breeze gently caressing your body, the soothing sound of the ocean rhythmically lapping the shore and the distant call of the sea gulls circling. Together the sounds and the sensations embrace you and carry you away to a place where you and the ocean are one. Experience a whole new level of pampering.


UB.edu.bz
The University of Belize is a national, autonomous and multi-location institution committed to excellence in higher education, research and service for national development. As a catalyst of change it provides relevant, affordable and accessible educational and training programs that address national needs based on principles of academic freedom, equity, transparency, merit and accountability.