Kanantik.com
Unique, Private, Luxurious - A Natural Paradise, Kanantik Reef & Jungle Belize Resort, an eco-sensitive and all-inclusive resort built in Southern Belize on 1,300 feet of private beach. This all inclusive Caribbean resort encompasses over 300 acres of private untouched land and consists of 25 separate, individual air-conditioned cabanas, each indulgently spacious and luxurious.


Kriol.org.bz
Official Website of the National Kriol Council of Belize. The purpose of the National Kriol Council of Belize is to promote the culture and language of the Kriol people of Belize, as well as harmony among all the ethnic groups of Belize.


Krisamis.com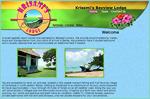 Located in the village of Sarteneja in Corozal, Krisamis is a beautiful sea side resort owned and operated by Belizean owners providing comfortable accommodations, meals, and adventure tours. community. Krisamis is a fairly new resort and slowly growing, our rooms are spacious and each have air condition, Cable TV, Internet Access, spacious private bathrooms with hot and cold showers, one has double showers for your convenience.


Kstrom.net/isk/maya/maya.html
Maya Civilization-- Past & Present. Original cultural material (stories, vocabularies), links to many Mayan sites; Rigoberta Menchu Tum (Guatemala Mayan Nobel Peace Prize Laureate) with current info on the continuing struggles. Menu of topic-organized Maya pages.


Larubeya.com
Laru Beya is an exclusive, midsize resort located on seven acres of lush gardens and beach front property on the Placencia Peninsula in southern Belize. At Laru Beya, which in the Garifuna language means -on the beach-, you can enjoy your vacation lounging in a swinging hammock while listening to the beat of the waves rolling onto the beach. Laru Beya is also ideally located to facilitate your enjoyment of all that Belize has to offer - snorkeling, diving, fishing, river tours, rainforest trails, Mayan archaeology, and lots more.


RobertsGrove.com
Robert's Grove is one of Belize's top luxury beachfront resort hotels, rated 5 stars by Belize First Guide to Mainland Belize. This gracious, beautifully appointed hideaway enjoys an ideal location near Belize's main attractions the Barrier Reef, Tropical Rain forest and Maya Ruins. We're equipped to make your visit to Placencia and Belize an unforgettable one.


SanIgnacioBelize.com
The newly renovated San Ignacio Resort Hotel is Cayo's premier full-service resort in San Ignacio, Belize. The hotel boasts first-class amenities, and is centrally located for adventure tours to nearby archaeological parks, caves and nature reserves. 25 rooms in 14 acres of jungle garden on the outskirts of San Ignacio. Conference facility, restaurant, basketball court. Conveniently located on the Highway to Maya History, situated on a hill just along the Macal River.


Seaclift.com
Seaclift Bed & Breakfast offers six rooms in two modern buildings on the best beach in Dangriga's preferred neighborhood - Southern Foreshore. Guests relax in spacious and comfortable homelike surroundings and are served full complimentary breakfasts in one of the two comfortable dining areas or on verandas overlooking the sea.


SeaOFarrell.com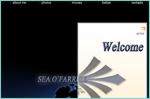 Professional underwater video shooting with latest video equipment (SONY HDV Pro Equipment). Longest underwater videographer in San Pedro, featuring all types of fish and marine life, wildlife documentaries, caves and jungle exploration, video or film.


SingingSands.com
A private secluded seafront resort on Maya Beach….with beautiful Placencia Lagoon nearby ".......Singing Sands is an oasis for the traveler...whether couples seeking a romantic space, groups in search of a base location...or birding enthusiasts and water lovers needing a place from which to begin...their Belizean adventure." Our Inn is tucked within a beautifully landscaped tropical garden, providing a restful environment for our guests....We take pleasure in providing a relaxed, at home atmosphere here.... The wide sandy beach offers an abundance of both shade and sun....plenty of coconut palms, with hammocks and beach chairs waiting......


SmugglersDenBelize.tripod.com
Built using mostly natural materials, Smuggler's Den consists of a 3 level Bar/Restaurant and a small handfull of Thatch roofed Bungalows on a small sandy beach overlooking Chetumal Bay. Consisting of mostly locals and retirees from around the world, Consejo is a quiet, forgotten place with a slow paced feel. There's no endless sandy beaches here with the hustle and bustle one would expect to see in the Caribbean This is a family run establishment in a low volume area quietly nestled in a sub-tropical jungle setting.


SouthwaterCaye.com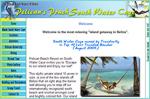 Pelican Beach Resort on South Water Caye invites you to "Escape to our island and Enjoy our reef". This idyllic private island 15 acres in size, is one of the few islands off Belize that sit right atop the barrier reef allowing you to step off our internationally recognized south beach and snorkel amongst coral and brightly colored fish. Our island resort is located on 3 1/2 acres on the southern end of the island. South Water Caye is accessible by a 45 minute boat ride just 14 miles from the town of Dangriga, in southern Belize.


SPEAR.org.bz
The Society for the Promotion of Education and Research (SPEAR) is one of Belize's leading civil society organizations. It is a non-government, non-partisan and not-for-profit membership organization. SPEAR was formed in 1969 with the aim to contribute to the making of modern Belize through increased national and political consciousness and people's participation. Our mission statement commits the organization to struggle for justice, democracy, and sustainable development.


Spindrift Hotel
Spindrift Hotel is one of Belize's feel home hotels. Nestled in the center of San Pedro Town right on the beach on the island of AmbergrisCaye, about 35 miles east of the mainland. The concrete block structure with a view of the Barrier Reef, includes a private sundeck, 20 large air-conditioned rooms, 4 Economy with standing and ceiling fan and 3 apartments equipped with kitchenette, an office with efficient bilingual personnel,Bar and Restaurant facilities.


StatisticsBelize.org.bz
The Statistical Institute of Belize, the national statistical agency of Belize. It's primary functions are to collect, compile, extract, analyse and release official statistics pertaining to the demographic, social, environmental, economic and general activities and conditions of Belize on an impartial basis and in accordance with professional standards and ethics. News Headlines, Latest Official Statistics, Population Estimates & Projections 1980 - 2050, and much more!


StayCayeCaulker.com
Treasured Travels is a local travel agency, situated on the island of Caye Caulker, in Belize. We specialize in prime beachfront accommodations, on the island of Caye Caulker; Belize's second largest inhabited island. We offer a wide range of services, including: snorkeling, scuba diving, windsurfing, weddings / vacation packages, local flights, and real estate services. We boast first-hand knowledge about our country, its logistics, its culture, the establishments and people we represent.


StoneTreeRecords.com
Stonetree Records is the leading record label in Belize. Since 1995 we've been producing the best music from Belize and the region. To hear the unique sounds of Belizean culture, please visit our website and online shop! Stonetree Records: Not just another independent record label in the Caribbean…


TheLodgeAtBigFalls.com
The Lodge at Big Falls, close to Punta Gorda, in Toledo, southern Belize, is the district's premier inland resort. Vacation packages offer guests easy access to our natural wonders, archaeological treasures and a host of adventures. Our packages include eco-tours which will introduce you to the local Mayan people and culture, Mayan archaeology and the natural history of the area.


WinBelize.bz
The Women's Issues Network of Belize (WIN-Belize) was established in 1993 by a group of women who were actively involved in addressing women's issues, such as: teenage pregnancy, family planning, economic empowerment, capacity building, and advocacy activities with and on behalf of women. These founding members had previously been loosely organized but were united in one common goal - to work for and to implement objectives that were conducive to the overall development of Belize, including the role, rights and responsibilities of women. We are comitted to the pursuit of Human Rights, which includes the rights of women, achieving Gender Equity and Gender Equality, and the practice of Democratic Leadership.