BelizeWeddings.com
The desire to marry under tropical skies wandered into our imaginations many generations ago. You can say "I Do" to the one you love in a local chapel, a tropical garden or on a sun kissed shoreline. Belize has made it easier than ever to turn your dreams into a reality. There are few limits here - we will listen to your ideas, share a few of our own, and when a plan is made all you need to do is show up and drink in the pleasure and excitement of your special day.


BlueTangInn.com
Picture yourself in a spacious room with the blue Caribbean at your doorstep - you're at the Blue Tang Inn. (In case you're wondering, the Blue Tang is a brightly colored tropical fish, commonly seen along our reef). Stretch out on your deck or stroll on the beach. Sunrise at the Blue Tang Inn is something special. We'll serve you fresh-brewed coffee and Island tasty fruits. No charge, by the way, it's on us.


ButterflyJungle.bz
Welcome to San Pedro's Newest Attraction, the Butterfly Jungle! Imagine strolling through a lush jungle filled with brilliant Belizean butterflies and exotic flowers! Sit on a bench near the waterfall, quiet, and a butterfly might just land on your shoulder. Live butterfly releases, for weddings, gardens, and education!



ElvisKitchen.com
The most famous restaurant on Ambergris Caye is undoubtably Elvi's Kitchen. Whether you're craving crab claws, lobster, calamari, scallops, mussels, fresh water lobster, shrimp, conch, or fish (whole, steaks, or fillet), Elvi's is "Di Place" for seafood. From appetizers of ceviche and buffalo wings to classic island entrees, the flavors that you enjoy at Elvi's will stay with you for a lifetime.


Emerald.bz
Emerald Mine Fine Jewelry, Colombian emeralds at Colombian prices. We have a large selection of hand crafted Colombian 18 kt. emerald jewelry with stunning stones from the Muzo, Coscuez and Chivor mines. The Emerald Mine features a large selection of rings for all tastes. Pendants, bracelets and sets for all occasions, Unique sealife jewelry in enameled 14 kt. We also have a large variety of authentic certified treasure coins in handmade unique 14 kt. Ring, pendant and earring settings.


GetTransfers.com
We specialize in fast and reliable travel services within Belize and neighbouring cities in Mexico. We put at your disposal a licensed, bi-lingual tour guide ready to fill you in on the historic and natural beauties of Belize. In addition, we are knowledgeable of trans-border requirements, and as such, you can be at ease knowing someone will take care of the sometimes burdensome details for cross border travel. We can also help you book your hotel room , as well as, book your flight with local air-couriers, as we are agents for local airlines.


Graniels.com
Welcome to Graniel's Cabinet and Construction Company, and also Graniel's Dreamland. Thank you for allowing us the opportunity to share our expertise with you. Graniel's Construction Company specializes in custom design and remodeling of homes and condos. We are a full service, licensed building contractor. We build concrete, wood, and thatch homes. We also build piers, picnic palapas, and seawalls. Our cabinet shop creates custom wood cabinets and furniture out of the finest mahogany and exotic hardwoods.


InvestInBelize.com
We are a Belize real estate company in San Pedro, Ambergris Caye offering beachfront, condo's, residential, and commercial property. We offer both professional and personal service. Serving San Pedro For over 5 years. If you are looking for an investment in Belize, there are many ways we can assist you in finding property that suits your needs. Whether you are looking for a house on the beach or invest in land we will be able to assist you. We are here to bring buyers and sellers together.


IslandDogBelize.com
Mike Gvara, popularly known as "The Original Island Dog", resides in San Pedro Town. Ambergris Caye, a small island off the coast of Belize. Mike started doing pencil and ink drawings to sell to the tourists. "The Dog.", a self taught artist has often said. "I'll never get rich doing drawings and cartoons, but it keeps me in rum and cigarettes and pays the rent. I get to have my office on the beach in the shade of a coconut tree." Limited edition lithographs, Greeting cards, calendars, and cartoon books are available.


JerryJeff.com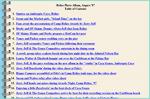 Jerry Jeff Walker has a home in San Pedro, and his multi-week "Camp Belize" shows are enjoyed by many. Photo album, information on Camp Belize 2007, concert tour schedule, letters to fans, biographical information, Jerry Jeff Walker Discography, and rental information for Casa Gonzo.


JourneysEndResort.com
Journey's End Resort is an escape to rustic luxury. A truly exotic destination that will allow you to experience what most people dream about. There are very few places in the world where you can climb atop an ancient temple one day, and dive one of the world's seven underwater wonders the next. Imagine yourself hiking the paths of the world's only jaguar preserve, then drifting down a jungle river with iguanas, orchids, and colorful birds as companions. At the end of the day you return to your tropical boutique resort. Imagine yourself at Journey's End Resort .....


KayScott.com
Re-live your romantic tropical wedding through the photographs of Kay Scott! One of Belize's finest photographers. Weddings are Kay's love, she delights in capturing everything that makes each bride and groom unique, the intimate moments, the beauty, the emotion.




Lagniappe-Belize.com
You've just arrived in our tropical paradise of Ambergris Caye. What's the first thing you want to do? Grocery shopping? We didn't think so, and that's why we started Lagniappe Provisioning. Kick off your shoes, pour yourself a glass of wine and take a walk along the Caribbean beach. We've taken care of the rest by stocking your kitchen with your favorite items. An easy ordering system means you can plan all of your shopping from the comfort of your home.


TropicAir.com
Tropic Air is Belize's largest and most experienced airline. Tropic Air was founded in 1979 and now employs over 180 people. Our modern fleet includes the state of the art Cessna Caravan. Whether you fly one of our regularly scheduled flights, or charter us for that special adventure, you can fly with confidence when you choose Tropic Air.



TropicalTouchSpaworks.com
Tropical Touch Massage and Day Spa. Located on front Street in San Pedro, Ambergris Caye, Belize. We offer many Spa Treatments featuring Belize's finest natural muds. Massage, Body Treatments, Facials, Pedicures and more. Seaweed Scrubs, Mud Massage, Body Wraps, Facelift Massage, Hair Masks, Manicures, Hand Treatments. Come join us!



TurneffeCoconut.com
Peter Singfield, or "Snakeman" is my "Medicine-Man" code name -- as the "Cascabel" medicine I use is derived from the bones of one specific subspecies of tropical rattlesnake. A traditional medicine of the ancient Maya that I have learned to apply well to many serious afflictions of mankind. This quality of medicinal virgin cold pressed coconut oil can not be made by automation processing. It must be slow and labor intensive. And the results are well worth the effort.


Tzabcan.com
Cascabel Therapy is an ancient form of treatment for all serious disease as practiced by the Ancient Mayan Societies. "Cascabel" is a Spanish Term to describe the tropical Rattle snake. The medicine popularly known as "Cascabel" is made from the roasted bones of this snake. The specific Rattle Snake used in the following examples comes from one specific subspecies called "Tzabcan" of Crotalus Durissus.


UnderdaSea.com
Come experience the underwater wonders of Belize in Under da Sea. The largest living barrier reef in the world is host to a variety of species including sharks, rays, eels, groupers, parrot fish, trigger fish, sea horses, turtles, shrimp, sea fans, coral and many other wonderous aquatic life. Alonzo Flota will guide you through the fascinating underwater kingdom of Belize. With over 10 years of experience, Alonzo will introduce you to a nautical realm so wonderous you're sure to come back year after year.


Victoria-House.com
The Victoria House doesn't have the feel of a resort in the usual sense and one soon realizes that it is a complete and total retreat, free from the boundaries and pressures of day-to-day life and renowned as one of the best bare-foot resorts in the region. Nestled among tall swaying palms on white sand beaches with an ambiance of relaxation, privacy and casual elegance the resort offers all the services of a luxury hotel without the formalities.


WhiteSandsCove.com
Located on two hundred feet of pristine Caribbean beachfront, White Sands Cove Resort offers first-rate amenities including a fresh water pool, seaside beach bar, island style spa, on-site dive shop, tour desk offering island and mainland tours and excursions, hi-speed internet, hammocks, an outdoor barbeque, bicycle, kayak and golf cart rentals and much more. Our staff is eager to fulfill your every need and looks forward to welcoming you to our island paradise in a destination that celebrates and reflects the local culture with a distinctive style.