CapricornResort.net
For many travelers to Ambergris Caye, a visit to Capricorn, on a beachfront cove just 3 miles north of San Pedro, is virtually a must. The resort is recognized as one of the top restaurants in Central America! While the focus at Capricorn is its fine food and good spirits, the resort also features 3 cozy, private, air-conditioned cabanas on the beach. Each cabana is complete with high ceilings, large private bath, shower made for 2, and a porch with its own hammock for relaxing.


CayeCaulkerChronicles.com
Come see us for the latest news and information on Caye Caulker, Belize. Photographs, blogs, news, photo of the week, and more!!!


CayeChapel.com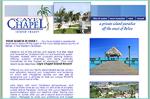 This resort island has a spectacular 18-hole Par 72 USGA Golf Course as it Western boundary. Certainly, Caye Chapel is a photo opportunity at every angle. Your perfect escape vacation offers ultimate privacy thru exclusivity, superior service, spectacular resort amenities including no tee times, nor round limits, on property spa services, newly completed tennis courts, recreation and game area, heated swimming pool and hot tub, gym facilities, snorkel and glass bottom boating, barrier reef diving, deep sea, island lake, river or pier fishing.


CayeCoffee.bz
Caye Coffee supplies freshly roasted coffee to San Pedro Town and communities throughout Belize. Caye Coffee (pronounced "kee" coffee) is located on Ambergris Caye, a small island in the Caribbean just off the coast of Belize. We are the first and only coffee suppliers to set up a roasting facility designed to offer fresh roasted coffee to the people of Belize. Our coffee shop is unique; it is not what you would typically call a "coffee shop". We do serve fresh coffee and goodies baked by some of the local bakers.


CayeManagement.com
Caye Management has a wide variety of beachfront homes, villas, and condominiums to choose from on Ambergris Caye in Belize. Our full service office is located on the north edge of town at Casa Coral, and is open 7 days a week. Let our professional staff, with over 20 years of experience in Ambergris Caye house rentals, assist you in choosing the right vacation spot.


CoralBayBelize.com
Coral Bay Villas offers you luxurious beach front accommodations with a spectacular and unobstructed view of the Caribbean Sea and the Barrier Reef. Our six deluxe condos are situated on a pristine white sandy beach, shaded by majestic palms, with large terraces to catch the sea breezes and just a few feet from the crystal clear turquoise waters of the Caribbean Sea. Whether you're looking for tranquility or adventure, or some of each, we invite you to come, enjoy our clean, comfortable accommodations and experience our incredible island paradise.


CoralBeachHotel.com
As one of San Pedro's earliest guest accommodation facilities, Coral Beach Hotel has grown as the island has expanded from a tranquil fishing village into a bustling resort metropolis. Although recently renovated into a modern concrete structure, the hotel still maintains much of its original old-world charisma that is forever embedded in the town's colorful history.


DandE.bz
The newest sensation sweeping the nation is DandE's Frozen Custard and Sorbet! We also serve thick, delicious shakes and mouth watering sundaes and banana boats – tasty treats not to be missed while on Ambergris Caye. Customers at DandE's are welcome to sample any of the delicious desserts du jour. "If you like ice cream, you will LOVE DandE's Frozen Custard & Sorbet!"


EktunBelize.com
Ek' Tun provides an exotic, jungle experience for adults who enjoy active, challenging travel in an invigorating, spectacular natural environment. Having only two guest cottages permits the intimate and romantic yet casual ambiance of a "bed & breakfast," as well as offering privacy and solitude not possible at larger jungle lodges and hotels. Your experience here is guaranteed to be an experience as unique as YOU are .... an experience worth coming all the way to Belize for.


ElFuerteBelize.com
El Fuerte is a beautiful Spanish style home with a private courtyard located 1 mile from the town of San Pedro, Belize. Our home is fully equipped with all the amenities of your home, portable CD player, TV, VCR & cable & telephone. We have two bedrooms with a queen size bed in each. The house is located in a small community called San Telmo a mere 40 yds off the beach. There are many locals which live nearby & also some Americans which now call San Pedro their new home.


Ramons.com
Lose yourself in the island accommodations at Ramon's Village Resort! An exotic beachside island paradise awaits you! Marvel at our stunning, authentic thatched roof cabanas, tropical lagoon-style pool, fabulous restaurant and the world-famous Purple Parrot all the while being pampered by our renowned staff.. Our accommodations include sixty-one thatched roof cabanas hidden beneath coconut palms and lush tropical foliage, air conditioned and fan-cooled for idyllic comfort.


ReefVillageBelize.com
If there ever was a better opportunity to build the home of your dreams while living your dream...this is it!!! Reef Village is a commercial real estate community village nestled in the country of Belize, where future homebuyers can actually live out their dreams in a tropical paradise. This several acre ocean-side property is the ideal location for owning a custom townhouse or condo in Belize, while making new friends and neighbors in a multi-ethnic community.


SantelmoBelize.com
A beautiful, ground floor, ocean-front condominium with two bedrooms and two baths. The master bedroom has a queen sized bed and a private master bath with a Jacuzzi jet tub. The second bedroom has a queen bed and a set of twin bunk beds. The spacious 1250 Sq. feet comfortably sleeps 8. The condo features a fully equipped bedroomkitchen, central air conditioning, ceiling fans throughout, telephone and cable TV in the living area and both bedrooms. The living room has a double sleeper sofa, VCR and CD player.


Shipstern.org
Shipstern Nature Reserve is located in the north-eastern corner of Belize, covers an area of more than 11'000 hectares (ca. 27'000 acres), protecting a wide array of habitats, ranging from saline wetlands and lagoons to Yucatan tropical moist and dry forests. Shipstern Nature Reserve is home to all five cat species of Belize, the endangered Baird's Tapir and a myriad of other plant and animal species, some of them very rare, and almost 300 species of birds.



SpanishLookout.bz
Welcome to Spanish Lookout, a Mennonite community in Belize, Central America. We have a Business Directory, Map and Directions, News, Weather, Church information, History, and a Picture Gallery with a picture of the week.



SplashBelize.com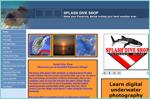 Splash Dive Shop was created in 2000 and was originally located in front of Sunny's Hotel in Placencia but after two years relocated to its present site just at the beginning of the sidewalk. Splash Dive Shop is becoming a favorite of diving and snorkel groups. Its operator, Patty Ramirez, a PADI Scuba instructor, is so enthusiastic that she has adorned her finger and toe nails with the Dive flag. She not only is conscientious about tourist safety, she is known for her hospitality.



Sunbreeze.net
SunBreeze Hotel is a U Shaped Spanish Architectural design with a touch of the Caribbean surrounded by tropical gardens overlooking the Caribbean Sea. We are centrally located at the immediate south side of the heart of the town with easy access to every means of entertainment and water sport activity. Our oceanfront restaurant, "Blue Water Grill", overlooks the pristine waters of the Caribbean Sea serving breakfast, lunch and dinner specializing in "Island Cuisine with a Twist".


SunriseBelize.com
At Sunrise Realty, we pride ourselves in being the only Belizean real estate firm dedicated solely to Ambergris Caye. We are not here to 'sell to you' but simply to help you make the right decision. Drop by for a visit or give us a call. We will also respond promptly to e-mail and fax inquiries. If you have a property that you would like to put on the market, or are curious as to its value, then feel free to contact us.


TanishaTours.com
With Daniel Nuñez. Snorkeling - Maya Ruins - Wildlife - When it comes to wildlife we are the experts and the pioneers. beginning the Lamanai and the Belize wildlife tour from San Pedro in 1993. We offer snorkeling, fishing, or just relaxing and enjoying the beautiful tropical waters off Ambergris Caye, Belize. Trips to the Maya jungle and rainforests, full of monkeys, Maya ruins, and incredible bird and animal life.


TravelTourBelize.com
Home to the best tour guides in Belize is Travel Tour Belize Limited. Mrs. Iraida Gonzales, also known as San Pedro's "Friendliest Lady," has been keeping visitors to La Isle Bonita happy since 1979. Travel Tour Belize provides first class travel connections locally and around the world.They have been instrumental in arranging vacation plans to Belize and from Belize to the outside world.