Hydromet.gov.bz
The purpose of the National Meteorological Service is to provide hydrological and meteorological information and warnings to safeguard life and property and to promote the socio-economic development of Belize. The National Meteorological Service is responsible for providing Aviation Weather Information and Forecasts, and Specialized Weather Forecasts for Agriculture, Forestry, Marine, Military and Tourism. It also provides Public Weather Forecasts for the media, which then distributes via newspapers, radio and television.


LaRutaMayaOnline.com
Mayan Travel is a Tourism and Travel Agency with 7 years of service experience. Every where you arrive by sea, land or sky Mayan Travel will be there to fill out your needs. Our main office and reservation center is in Guatemala City and our professional staff is available 365 days of the year in any service you required. Comfort, security and quality are Mayan Travel priorities, give you the best service all the time going over your expectations. Our guides and Group Managers are the best in the industry


LoveFM.com
Love FM is a member of the R.S.V. Media Centre and the brain child of RSV Founder, Rene Villanueva Sr. With over thirty years of broadcasting expertise, Rene Villanueva Sr. is largely responsible for the early and continued success of RSV Radio. Besides information, Love FM has a music format that also appeals to an adult audience. Its programmes engender community upliftment and encompass the entire family. The combination of adult-oriented information and entertainment make Love FM the leader in reaching mature audiences.


MataGrandeStudios.com
Mata Grande Studios & Resort offers world-class recording facilities and complete privacy, with a relaxed and unspoiled Caribbean environment. Our facilities are perfectly outfitted for writing, producing, and recording.Our staff and amenities guarantee an undisturbed creative environment, a much needed break, or just a great vacation. Located on Ambergris Caye, 4.5 miles north of San Pedro Town.


MayaDiscovery.com
The only magazine specializing in the Mayan culture (Mundo Maya Magazine) is now on the Net (Mundo Maya Online). Available in English and Spanish.


MayanWells.com
One mile from the Altun Ha Northern Highway, in the Rockstone Pond Village, you will find paradise on Earth in the beautiful country of Belize: Mayan Wells Restaurant and Gift Shop. Mayan Wells specializes in making your stay at Belize, a memory that will last a lifetime. Offering everything from delicious food (provided by the restaurant), to comfortable guest houses, camping facilities and amazing daily tour packages, Mayan Wells is the vacationing spot you have been dreaming of.


MayaRuins.com
A photographic tour of Maya archaeological sites in Mexico, Guatemala, Honduras and Belize. Includes interactive maps, quotations from explorers and scholars, and a bibliography.


MonchosRentals.com
Monchos Golf Cart Rentals, we deliver to your room! Half day to weekly rentals.


MopanRiverResort.com
A carefree adventure holiday awaits you at Mopan River Resort. Everything for a superb vacation is provided in our all-inclusive rates: Lodging, transfers, expeditions (including Tikal), kayaking, meals, tropical drinks, taxes, service, and the finest hospitality. Experience the best of Belize and the region; and let our 'worry-free' packages provide a relaxing holiday. As the only fully all-inclusive resort in Belize, we are the experts!


MostlyMaya.com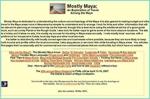 Mostly Maya is dedicated to understanding the culture and archaeology of the Maya. It is also geared to finding ways to help make budget travel in the Maya areas in Mesoamerica simpler. I also look for better ways to get to some of the more difficult locations by actually going to them. The site is a hobby and it takes no ads; it is mostly my excuse for traveling in Maya areas annually. I note mostly local sources, with a preference for inexpensive hotels, local day trips and other local services.


NektonCruises.com
Nekton is a leader in the liveaboard dive industry. The Nekton vessels implement a unique SWATH design technology to provide the smoothest ride available in the live-aboard dive industry. Individuals prone to motion sickness have a decreased likelihood of becoming seasick while on a Nekton vessel. Itineraries include Northwest Bahamas, Cay Sal Bank, Central and Southern Belize, and The Cayman Islands.


NEMO.org.bz
NEMO in cooperation with the respective Emergency Management Committees, and all Public and Private agencies, is established to preserve life and property throughout the country of Belize in the event of an emergency, threatened or real, and to mitigate the impact on the country and its people.


NestorsHotel.com
Our family is proud to announce that we have chosen a new name for our hotel to match its fresh new look: Las Palmas Hotel. Our all-new guest rooms are immaculate, each equipped with air conditioning, brand new beds, linens & furniture, color televisions, and full private baths, attractively tiled. But the best news is that our prices are still the best bargain in Corozal, and the Northern district of Belize. Join us and find out for yourselves!


NHC.NOAA.gov
United States National Hurricane Center, through international agreement, the NHC has responsibility within the World Meteorological Organization to generate and coordinate tropical cyclone analysis and forecast products for twenty-four countries in the Americas, Caribbean, and for the waters of the North Atlantic Ocean, Caribbean Sea, Gulf of Mexico, and the eastern North Pacific Ocean.


PersonalTours.net
Here you will discover the ancient Maya people, their pyramids, extensive history, their art, culture and customs. The Maya of Belize was an organized and civilized society, two thousand years ago, when Europe was not "civilized". You will see adventure as well as Belize's ecologically sensitive, tropical rain forest, its magnificent jaguars, beautiful orchids and many species of tropical birds and exotic butterflies.


PlacenciaBreeze.com
The Placencia Breeze is produced and edited by the Placencia Tourism Center Elysia Dial & James Cleve Westby and then transferred to internet by James Cleve Westby. The purpose of the Tourist Center is two-fold: helping visitors to our area in fully enjoying their southern Belize vacations, and providing support for local businesses. The Tourism Center is funded in part by advertising in our print and on-line versions of the Placencia Breeze, as well as donations from the Belize Tourism Board.


Portillas.com
The Spanish word "Portillas" translates to "Portholes" in English. "Xcalak", the name of the closest pueblo to me, means virtually the same in the language of the ancient Maya. Though this area was the site of man's first civilization, it is amazingly still near its natural state. Visit this, your personalized guide for the Costa Maya, Xcalak, Majahual (Majahual) and Northern Belize for information planning travel and adventure, weather information and much more.


RealEstateBelize.com
Tropic Real Estate is located in the Cayo District of Western Belize, Central America. We specialize in offering prime residential, commercial, land and income real estate property parcels for sale in the local area as well as all of Belize. Some property owners in Belize are a little unique in the fact that they elect not to publish their hotels, resorts and businesses for sale. We therefore, work very closely with real estate agents throughout Belize to remain informed of such properties and investment opportunities and welcome your special property requests.


TheReefRadio.com
The Reef Radio is a radio station that transmits from San Pedro Town, in the island of Ambergris Caye, Belize. We broadcast on the FM dial for those living in and about Ambergris Caye and for our listeners in the rest of the world. The Reef Radio first hit the airways on the 17th August 1999. Proudly being the island's first broadcasting station listeners, We play all music genres making our programs entertaining.


RegentRealtyBelize.com
Regent Insurance, the parent company, is responsible for general insurance, its classes of business being Accident, Aviation, Fire, Liability, Motor, Marine Cargo and Marine Hull. Regent Life, its wholly owned subsidiary writes the Life, Health & Pensions accounts. With its' network of highly skilled Agents throughout Belize, we are able to bring professionalism linked to outstanding service directly to our clients; including most of the major businesses in Belize; wherever they are located.