BelizeSlateCreekCanyon.com
Slate Creek Canyon Eco-Park,preserved by it's owner since 1972 is located in the heart of Slate Creek Preserve, a private nature preserve founded in 1992 by concerned land owners that encompasses over 3000 acres of Mountain Cloud Forest . The preserve extends from the Mayan Village of San Antonio to Barton Creek and the Tapir Mountain preserve. Slate Creek Canyon Eco-Park is adjacent to the Mountain Pine Ridge Forest Reserve and The Chiquibul Forest, providing vast wilderness to explore.


BelizeVillas.com
Coco Caye Villa sits on the beach amidst the lush tropical vegetation of a former coconut plantation. Located just north of San Pedro Town, it is part of a small enclave of five private homes that share a beautiful beach and pool. The Villa features a great room with vaulted Belizean hardwood ceilings, coral stone floors and a huge terrace overlooking the Caribbean Sea. The kitchen fully equipped for cooking.


BelizeWeb.com
BelizeWeb.com is a Telemedia portal site that helps you access current information about Belize. Your one stop site for Belize news and entertainment, travel and tourism.


BETEX.bz
Belize Tourism Expo, Marketplace & Expedition is held in Belize every two years, and offers an exclusive opportunity for travel trade professionals to meet with local suppliers, learn more about Belize, and experience the destination first-hand. Travel agents and wholesalers can increase profitability through destination education and personal encounters. Local tourism service providers will showcase their products and have a chance to interact personally with international partners. The 2008 format has changed slightly, with four days of countrywide expeditions (10 itinerary options), travel professionals will better be able to immerse themselves in the product, and learn first hand how to sell the destination.


Biodiversity.bz
The Biodiversity & Environmental Resource Data System (BERDS) is a comprehensive biodiversity and environmental data warehouse and research system built with one purpose - to enhance collaborative research and conservation efforts in Belize by providing shared access to not only accurate biodiversity- and environment-related data but also the tools necessary to begin research and investigation of that shared data. Since its launch in August 2005, BERDS has grown to become the preeminent environmental data resource for Belize.


Biological-Diversity.info
Belize is a small country but it is known for its high biodiversity, meaning that there are many species found in a small area. There exists much information on Belize's biodiversity but this can be difficult to find. This site hopes to remedy this problem and together with related links to quality sites, the goal is to provide a comprehensive source of information about the biodiversity of Belize.


BlackOrchidResort.com
Black Orchid Resort rests along the banks of the historic Belize Old River on the outskirts of scenic Burrell Boom Village. Black Orchid Resort is the perfect location for those that just want to slow down, chill out, relax… And for those that packed everything that Belize has to offer in a short period of time - diving, fishing, hiking, exploring.


BlackRockLodge.com
We invite to you explore our unique eco-lodge nestled in the dense rainforest above the Macal River in the Mayan Mountains of Belize. Black Rock Lodge's stunning rainforest surroundings offer abundant opportunity for exploration and adventure. Whether canoeing down the pristine Macal River, horseback riding to the Flour Camp caves, or hiking up the various Canyon trails, the abundant diversity of the local flora and fauna is inspiring.


Blancaneaux.com
When I first visited Belize, i was searching for the same jungle paradise i enjoyed while shooting Apocalypse Now in the Phillipines. I discovered it tucked in the Maya Mountains and invite you to do the same - Francis Ford Coppola


BlueCrabBeach.com
The Blue Crab Resort in Belize is a small and very private hotel. Accommodations include two thatch roof cabañas and four air conditioned rooms nestled in the palms, all located on the beach. We offer a modest, low density setting in a natural jungle environment, with emphasis on preserving wildlife habitat, set on a beautiful five acre spread from sea to lagoon, and we can rightfully boast a precious well preserved and protected natural mangrove habitat that is home and shelter to many species of wildlife and fish.


BlueMarlinLodge.com
The Blue Marlin Lodge is a rustic and charming dedicated diving, fishing, and relaxation resort. The grounds occupy a sizable portion, from beachfront to lagoon, of a small, striated coconut and pine covered islet - Southwater Caye. Southwater Caye is in the barrier reef chain of islets offshore Belize, about 14 miles southeast of the coastal town of Dangriga. This is a perfect location for divers, fishermen, snorklers or island seekers. The island is directly on the barrier reefline. You can literally walk off Southwater Caye and swim to the crest of the barrier reef.


BullFrogInn.com
The Bull Frog Inn is located in Belmopan, the capital city of Belize and is the foremost hotel-lodging facility for travelers to Belmopan. The Bullfrog Inn is also well suited to accommodate groups and families with children. Presently 80% of our guests are business people who are doing work for the government or private businesses. Each of our spacious air-conditioned rooms comes furnished with one double and one single bed, private balcony, cable TV, writing desk and chairs. We have wireless internet available for our guests, located in our Lobby and Restaurant & Bar.


BVAR.org
Welcome to the website of the Belize Valley Archaeological Reconnaissance Project (BVAR) and the Western Belize Regional Cave Project (WBRCP). Both projects are directed by Belizean archaeologist Dr. Jaime J. Awe. Dr. Awe has been active in Mesoamerican archaeology since 1977 and has experience directing investigations at numerous sites throughout Belize. BVAR has been conducting archaeological research in central Belize since 1988 with the initiation of excavations at the ancient Maya site of Cahal Pech. Come find out more about our project and the field work opportunities that we are offering this season.


ChateauCaribbean.com
The Chateau Caribbean - Belize City, Belize. Colonial-style Hotel on the Belizean coast. Dining room and conference facilties. Enter our doors and experience a timeless hotel, blending the elegance of a bygone colonial era and the comforts of modern-day amenities. Situated along the idyllic Belizean coastline, the Chateau Caribbean harks back to an earlier period from whence its role as a grand residence becomes once revived.


CIA World Factbook
CIA - The World Factbook -- Belize, Geography, People, Government, Economy, Communications,Transportation, Military, Transnational Issues


CocoPlumCay.com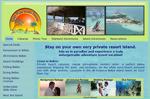 Private beach cabanas, casual atmosphere, modest rates- a perfect Belize experience! Enjoying the quiet, and seclusion, let the white sand beach surround you with deep serenity. Luxuriate in the all-inclusive Belize island resort on Coco Plum Cay.


CohunePalms.com
Just two and a half miles from San Ignacio in western Belize, Cohune Palms River Cabanas are located in the small village of Bullet Tree Falls at the base of the Maya Mountains. Set apart from the village on a peninsula of the Mopan River, Cohune Palms is blessed with cool river breezes and a jungle setting as well as the proximity to San Ignacio – its shops, restaurants, and nightlife.


Corozal.bz
Featuring restaurants, hotels, and businesses in the Corozal area. Sister site to Corozal.com


CostadeCocos.com
Welcome to Costa de Cocos Resort, located in Costa Maya, Xcalak, Mexico. A Diving and Fishing Paradise. 16 Cabanas, Restaurant and Full Bar.... Xcalak's largest Resort, and the best rates. Our Resort is set amid numerous Coconut Palms, filled with Mayan Culture influence at the 'end-of-the-road'. The Yucatan Jungle rich with wild life is our back yard. The Caribbean with all the exotic wonders of the sea is our front yard. When you are looking for a fantastic vacation to dive, fish, kayak, explore, or just relax in a great 'away-from-it-all' location.


CostaMayaReef.com
Costa Maya Reef Resort is a place where you are surrounded by a multitude of exotic attractions while enjoying the breath-taking beauty of the emerald seas, palm trees and tropical breezes. We are located on the island of Ambergris Caye, Belize, Central America just 6 1/2 miles north of San Pedro Town. You will find "The Belize Academy of Diving" on our dock. The villas have been designed with a romantic island flare and are situated right on the edge of the beckoning ocean.