CrookedTreeVillageReunion.com
Welcome to the Crooked Tree Village Reunion, an idea borne by one of our village's very own daughters, Linda Crawford Elul, who felt it was time to reunite with our long lost friends and families and reminisce about the good old times. This site will be used to provide information about the reunion, so please visit it regularly to learn more about this SPECTACULAR EVENT that will go down as one of the most memorable in the history of Belize! COME ONE, COME ALL, COME HOME TO CELEBRATE.


CrystalParadise.com
Crystal Paradise Resort offers a unique and intimate way to experience the magic of Belize. Join us for your Belize vacation, and you will remember your trip for a lifetime. The lodge is located in the lush jungle and along side the beautiful Macal River, a secluded location but still close to San Ignacio. Crystal Paradise Resort is one of the few resorts owned and operated by a Belizean family, and was hand built by the Tut family, using the ancient art of palm-thatched roofs that compliment with the natural beauty of Belize.


Duplooys.com
Experience a rainforest adventure at duPlooy's, an all-inclusive resort in Belize. The eco lodge of choice for Belize birding, caving, horseback riding, Mayan ruins, trips to Tikal, and much more. duPlooy's has become a haven for people seeking time away from the stress of a busy life. At duPlooy's you will want to spend a lot of time wandering about the property and Belize Botanic Gardens, watching birds and stars, swimming in or floating down the Macal River, relaxing on your porch or on the beach, enjoying a massage in our tree top therapy cabin, or just lying in your hammock.


ElPescador.com
El Pescador has been owned and operated by our family since 1997. Because we live on the premises, we're able to ensure that each of our guests receive the warm, attentive service we pride ourselves on providing. Many people whose priorities are fishing for bonefish, tarpon and permit ... and the angler's dream of a Grand Slam, diving on our world famous barrier reef, exploring Mayan sites, cave tubing and zip lining and other eco-adventures, or simply relaxing come to holiday with us at El Pescador.


EvasOnline.com
Eva's Restaurant & Bar, The First Cyber Cafe out West. Eva's is situated in the heart of San Ignacio Town, Cayo, Belize Central America. It is the hub for most of your travel adventures, offering great food, friendly atmosphere, Internet & E-mail services, gift shop and a reliable Tourism Information Center with the best and most affordable tours and accommodations in and around San Ignacio.


FidosBelize.com
At Fido's our motto is 5 star food at 2 star prices. You WILL BE sitting under the largest palapa in Belize on the beach, eating island style: no SHIRT, no shoes, no PROBLEM. We offer a large selection of local and international cuisines. FIDO'S has been praised in Caribbean Travel and Life Magazine, Cosmopolitan, and Arizona Life Styles as a casual yet fun place with great food and great music every night from local bands. You have not been to San Pedro until you've been to Fido's.


FiveSistersLodge.com
Since Five Sisters Lodge & Tours opened in 1995, it has been a popular escape for ecotourists and nature lovers. Being situated on ten acres of privately titled land in the midst of the national reserve, you can truly get away from it all here. The lodge is about a one-hour drive from San Ignacio, on the Caracol road, just a few miles beyond the gate at the reserve's entrance. The location is ideal for anyone interested in exploring the region, including Caracol, Belize's largest Maya ruin, only a 1-1/2 hour drive from the lodge.


Galen.edu.bz
Galen University offers innovative educational programs at the undergraduate, graduate and professional level in business, arts and sciences, and education. Enjoy learning at our tropical campus among our dynamic mix of global students and faculty during a semester abroad, a few weeks in the summer or while earning a full college degree. We are committed to providing progressive and inspiring courses, with a focus on sustainable development and over all excellence in education.


Habaneros.org
Guide to Paradise of Belize. You can visit the mainland cities, towns, and interior and meet friendly people, see historic sights, ancient Maya cities, or go to the cayes, thus enjoying the sea, beaches, and coral reef. The wonders of Belize are yours to choose.


Hamanasi.com
Ideal Belize resort - Luxury beachfront and treehouse rooms, all inclusive vacations, fine dining and attentive service. Explore reef and rainforest from Hamanasi Hotel & Resort, Hopkins, Belize. We are the largest and best dive operation in Southern Belize and carry the distinction of being a PADI 5-star Gold Palm Resort. We are very safety conscious and offer access to more pristine Belize scuba diving than any other location in the country!


HiddenValleyInn.com
Hidden Valley Inn, a luxury hotel with only 12 cottages, is located on a 7200 acre private reserve in the Mountain Pine Ridge area of Belize. This intimate eco resort offers quality accommodation, fine food and attentive service in a natural environment unspoiled by man. The flora, wildlife and birding here are like no place on earth. In 2008 Hidden Valley Inn will be celebrating 20 years as one of the most established and luxurious resorts in Belize.


IslaMarisolResort.com
Isla Marisol Resort offers beach combing, diving, and fishing vacations at our private island. Our professionally guided Belize tours features scuba diving, nitrox diving, snorkeling, fishing, beach combing, and seafood feasts, all set in the exotic environment of the tropics. Join us for the best in Belize vacations on our family owned island. The nature of the Caye has remained largely the same for over 50 years whilst in the ownership of the Usher family. We want you to share the pleasure that we have enjoyed on our island.


JaguarPaw.com
About a thousand years ago, Jaguar Paw was renowned as a great leader of Maya Indians. Today the name is gaining fame again, this time as the jungle resort. We have the natural wonders of primitive Belize at our doorstep by day, and after the sun goes down, you can enjoy the modern comforts, indeed luxuries of our first class resort.


JaguarReef.com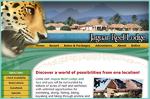 Come visit Jaguar Reef Lodge and Spa and you will be surrounded by millions of acres of reef and rainforest with unlimited opportunities for snorkeling, diving, fishing, biking, kayaking and hiking through pristine and protected eco systems. Most of our guests prefer to reach us by catching a 15 minute commuter flight to Dangriga, we are located on a 600 acre peninsula with 7 miles of prime white sand beach at our door step!. It is a friendly, laid-back experience with an abundance of Belizean hospitality to share!


JaguarsTemple.com
Jaguar's is located in the heart of town with its 600 person capacity multilevel seating with nightly musical mix and videos intros taking the sounds from the 70's and 80's to dance beats hip hop and Belizean music! Get ready for movie clips projected intro high tech video screen and our DJ that ads adrenaline and energy level as the night progress! Jaguar's offers the latest in audio and video entertainment including a huge video screen balloon drops confetti streamers and much more !


JunglebytheSea.com
Here, near the small village of Hopkins Belize at our rustically comfortable resort you'll be surrounded by miles of Rain Forest with unlimited opportunities for biking, hiking and exploring. While offshore in the crystal Caribbean waters lies one of world's greatest barrier reefs. Superb diving, snorkeling, kayaking and fishing on our doorstep. Nearby you'll find exotic tropical rivers to canoe and kayak, historic Mayan ruins and temples, rainforest jungles abundant with tropical flora and fauna, and the largest barrier reef in the Western Hemisphere.


TravelBelize.org
Official Belize vacation planning and travel with Belize hotels, Belize resorts, diving, fishing, Maya temples, Belize rainforest and vacation packages., The official travel guide to Belize, from the Belize Tourism Board with attractions, activities and planning information for rainforest, reef, beach, caving, diving, snorkeling, maya temples, licensed hotels & tour operators and more.


TurneffeFlats.com
Turneffe Flats has long been recognized as a premier saltwater fly fishing, scuba diving and marine ecotourism destination. Located on Belize's Turneffe Atoll, the largest and most biologically diverse atoll in the Caribbean, we specialize in superior service for a limited number of guests. The offshore atolls of Belize are consistently rated amongst the world's 'best dive destinations'. With pristine coral reefs, abundant marine life and warm Caribbean seas, it's easy to see why.


UDPBelize.org
Strong, alive and moving, the United Democratic Party represents the Foundation, the Hope, the Vision that our Country needs to recover from the costly blunders of the past, to withstand the trying difficulties that beset us, to overcome the daunting challenges ahead. Now, more than ever, the UDP needs us and we need the UDP.


WeddingPhotosBelize.com
Caribbean art and wedding photography by contemporary artist Debbie Cooper, Caye Caulker Belize.


WindyHillResort.com
Windy Hill Resort is located in the foothills of the Maya Mountains, the most diverse area of Belize. This beautiful resort provides all the modern conveniences in a lush tropical setting and just minutes from the archaeological sites, rivers, caves and other attractions that visitors come to see and experience in Belize. After a busy day of trekking around the Maya ruins, canoeing or tubing through the caves, hiking through the rainforest, or horseback riding along jungle trails, you will enjoy the relaxed atmosphere and the amenities of Windy Hill.


WindyHillTours.com
Windy Hill Resort & Tour Company is owned and operated by the Hales family. Located in the Cayo District of Western Belize, just west of San Ignacio, the resort rests on a hillside that commands a fine view of the Macal and Belize River Valleys and has the jungle at its back door. Windy Hill Tours Belize customizes family vacation and group travel packages and plans trips to ruins, caves, and island attractions.